News!!
Check out the new EU project Urban Data 2 Decide– Integrated Data Visualisation and Decision Making Solutions to Forecast and Manage Complex Urban Challenges. Joint Progamming Initiative Urban Europe.
We are cooperating with the City of Copenhagen around visualising data for supporting decisions in urban renewal projects.
---
Since my time as a student I am interested in use oriented design and development of software. In the last years i especially focussed on the flexible and adaptable software.
Use-orientation cuts across the sub-divisions of software engineering. Process management has to allow for evolution and Participatory Design with users; architectures have to support vertical and horizontal prototyping; requirements are under re-design throughout the life cycle and so on. The product of software development, the processes that lead to it and the context of use respectively its change and development have to be regarded as interlaced domains of reality. Use oriented design has to take all three dimensions into account.
To be able to develop relevant guidelines and methods, I focus in empirical research on the actual work practice of software development. I use qualitative social science methods informed by ethnography and ethnomethodology. Cooperative Method Development uses empirical findings to adapt and further develop methods together with practitioners.
Under the heading 'Design for Change', we looked e.g. at methods, techniques and tools promoting the design of adaptable software that can be tailored to a developing work practice.  Tailorable software brings design to use. It challenges traditional ways to organise software development. Flexible and agile approaches to software processes allow for a interlace of design activities and use. 
Curren
t
interests
End User Development
Can you provide users with the possibility to develop their own application? And how does a domain specific programming environment for non IT-professionals look like? End-User Development is a challenge that touches on HCI, Software Engineering and Domain Specific Lanaguages. Johan Bolmsten's PhD addresses how to provide an IT- infrastructure that supports End User Developers as well as professional developers.
The next International Symposium for End User Development will take place in Spain.
Global Software
– Software Design and Development with User Participation in Culturally Diverse Settings
With a Visiting Scientist Grant for from the Danish Agency for Science, Technology and Innovation I have spent Spetember-November 2010 with the TeNeT group and the Rural Technology and Business Incubator of the Indian Institute of Technology in Madras, Chennai, India.
The goal was to develop joint research that explores how Participatory Design (PD) methods and especially software engineering methods promoting use-orientation in development need to be appropriated in a culturally different setting. Because the development and usage of software is now globalised, the methods and tools used to design and development software needs to incorporate this global nature of software.
Methods carry cultural underpinnings. This becomes for example visible in the fact that a worldwide most companies certified on the highest level 5 of the Capability Maturity Model (CMM) for Software Engineering are situated in India and not in the Western countries where the CMM was developed. The hypothesis here is that methods are appropriated in different ways. How methods are appropriated sheds light on the different settings as well as the methods and their (cultural) underpinnings. The results will contribute to the understanding of the implications on development and appropriation of methods for global software.
Global Software Engineering
Software engineering will in future take place in a distributed manner. We need to understand more about how developers make distributed software engineering work, what are their problems and how can we support them.
Together with Rosalba Giuffrida and DHI Water and Environment, e.g. we explore the how software engineers use social software and how we can support them.
Cooperative Development in Software Eco Systems
The research on evolvable software products and previous research resulted in an interest to research software eco-systems where development activities are distributed accross different organisations. E.g. product providersprovide for configuration and customisation, done by consultancies and end-users. Or professional developers and end-user developers work together to develop and maintain the IT infrastructure of an organisation.
Lene Pries Heje's looked at the implementation of ERP systems.
Designing Evolvable Software Products
Software kernels are found in enterprise resource planning (ERP) systems, game engines, simulation software, content management systems, telecommunication infrastructure, and many other software products. A software kernel encapsulates and provides core functionality, and each specific software product is then developed by deploying and adapting this kernel. The goal of this project is to develop methods and technologies for the conscious identification, design and implementation of software kernels, and so to promote the development of families of software products, and should support an agile and competitive software industry.
The project runs for the three years 2006-2008 and is funded the Danish government through NABIIT, a research council for nano-, bio- and information technologies.The external industrial partners are DHI Vand og Miljø, and Microsoft Business Solutions. Click for more information.
The BEFORE project that is part of broader cooperation between Microsoft Business Solutions and The IT University addresses ERP systems, ontologies and model driven development.
Teaching
PhD courses:
Current courses for the M.Sc. programs at the IT University:
Advanced Software Engineering (Spring 2010, 2011, 2012, 2013, 2015)
Software Engineering and Software Qualities (Fall 2011, 2012, 2013, 2014)
How did I get there?
I studied computer science at the Technical University Darmstadt, Germany. 1997, I finished my Ph.D. at the Department of Computer Science, Hamburg University, with Prof. Christiane Floyd as a supervisor. Thereafter I spend seven years in Ronneby Sweden. I have been working at the Blekinge Institute of Technology. My colleague Olle Lindeberg and I, started up a small but ambitious research group: Use Oriented Design and Developing of Software. In August 2003, I started to work at the  IT-University in Copenhagen, currently I am member of the software development group.
Beside that I am member of the Forum InformatikerInnen für Frieden und Gesellschaftliche Verantwortung the German sister organisation of the CPSR Computer Professionals for Social Responsibility .
And I am interested in Gender and Equality issues.
---
So far so good - The job might be most of the life time, but it is not all - Or?

Music

. I love to listen to music, classical, jazz, and a lot more. Copenhagn is wonderful 

Cooking

for my friends. I definitely like to have guests. Sometimes they have to stand my experiments. But most of them come again :-)

I read

every kind of stuff, sometimes. I am a declared fan of Peter Høeg.

I

n Copenhagen, I

learned how to sail - its a lot of fun. Last summer I sailed with the Yukon and her crew from Tahiti via the Cook Ilands to the Tongo Ilands ...
Even as I have a car now, I cycle - and sail and swim and hike and am lazy outdoors

and yoga, and 
Gosh, there is really a lot, when you start writing about it.
This is a picture from Moorea. The yukon is the wooden sailing vessel in the bay, closest to land.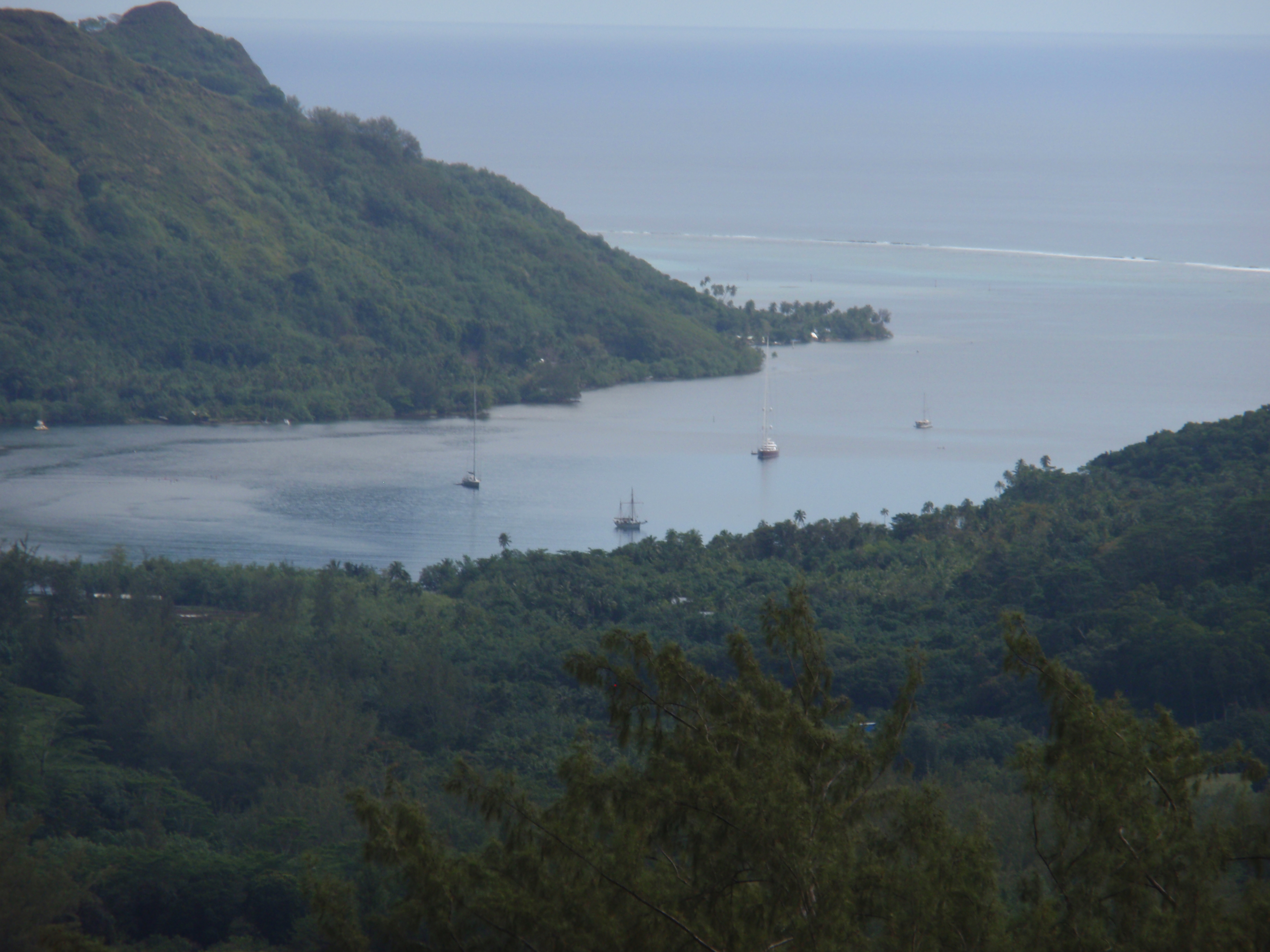 ... this and this is my favorite sunset picture...